russian Tsvetnaya BOLONKA AND COTON DE TULEAR pups
If you're looking for a pure breed puppy that is hypoallergenic and loves everyone, then you've come to the right place. The Russian Bolonka or the Coton de Tulear make excellent pets for those who want a little dog with a great big personality. Feel free to take a look around and thank you for visiting Blue Ridge Pups.
Blue Ridge Pups is a quality pet breeder of Russian Tsvetnaya Bolonka and Coton de Tulear near Chattanooga, Tennessee.
We health test our sires and dams for Breeding, cultivation, and show of exhibitions. We strive for beauty as well as health and temperament by pairing only our very best dogs. Thus we ensure success in soundness and health, and showcase their natural beauty with exceptional Pedigrees.
You can trust that your pet is coming from quality health tested showring quality stock! Even though you may not be looking for a Show Dog, a Pedigree will make all the difference when it comes to your Puppy's Temperament. All of our Puppies come with the proper AKC Limited / Pet Registration. Don't buy from an average pet breeder that doesn't health test, or you will get what you pay for.
Our Champion Pedigrees and Health Records are surpassing all of our expectations and making for Excellent Therapy and Comfort Companionship.
Top Quality Coton de Tulear and the Extremely Rare Russian Tsvetnaya Bolonka Puppies at Blue Ridge Pups
Get on our waiting list for Upcoming Litters Contact Us
Check out our other sites on the web at: Coton | Bolonka | Blue Ridge Pups
---
Check us out on Facebook – Instagram – YouTube for new videos, cute pictures and laughs. We love to talk about our pups, call us anytime!
We have Showring Quality puppies ready for your home now.
We do everything there is to protect our puppy's heritage as well as their quality of health. We can help when choosing the Perfect Puppy… so you can find a Perfect Match at Blue Ridge Pups.
​Check us out on PuppyFind for our available pups. Simply give us a call – we'll be glad to email you pictures and video.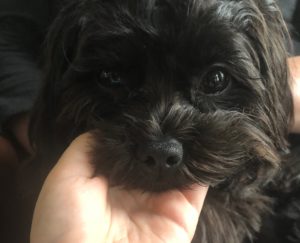 Just look at those Bolonka eyes!
Callie is doing fantastic in all respects. Another perfect crate night.

-Cathy H. Pittsburg
Pups day at the groomers!
Omg What a girl, not afraid at all! Playing, running and snuggling.

-Sydell S. Boca Raton