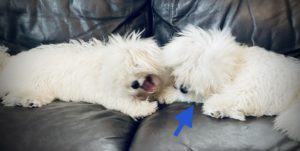 Available: Moose the Coton (pic at 6 months old)
(Parents pictured below)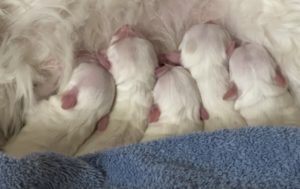 COTON DE TULEAR – "Cotton" Coated Hypoallergenic Dogs
The Coton de Tulear hail historically from Madagascar. "de Tulear" refers to the ancient city on the island situated off the coast of Africa. Once known as royalty's breed of choice, the Malagasy elite ruled with these beautiful dogs at their side.  During the Malagasy reign, a mere commoner wasn't allowed to keep a Coton de Tulear as a pet. Pirates are rumored to have deposited this breed in their travels, but where they truly originate is a mystery.
---
Cotons are certainly known for their fur…
Their fur's appearance resembles and feels like cotton. For those who suffer from pet dander, but still want a companion animal, the Coton is a perfect choice. If you decide to keep a long beautiful coat on your Coton, you should brush and comb routinely. Wash them regularly after brushing, and deep condition to prevent matting and tangles. Grooming options for Cotons also include what many recognize as the "puppy cut" which is easily managed at the groomers. The Coton is so aptly named! French "Coton" means Cotton!
If you're looking for an intelligent dog that doesn't shed, is easy to train, loyal, friendly, and beautiful, the Coton de Tulear is the perfect toy pure breed. They're social and prefer to be in your company. A great dog for those work from home.
Because of their nature, these fur babies will hate it if you leave them home alone and act like a fool in love when you return. It's the best investment if you want to be the center of your dog's world.
You can't put a price on the love you'll receive! Our Yeti and her Sire are both health tested for the best Coton offspring.
Blue Ridge Pups are looking for their fur-ever homes.  Call us today to reserve your Coton de Tulear.
You can trust that your pet is coming from quality health tested showring worthiness! Even though you may not be looking for a Show Dog, a Pedigree will make all the difference when it comes to your Puppy's Temperament. Don't buy from an average pet breeder that doesn't health test, or you will get what you pay for.